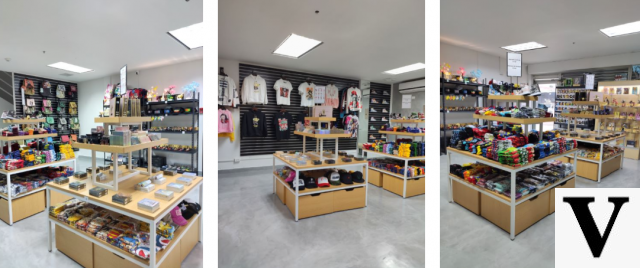 Location: Panama City, Panama
Phone: +50763911319
Hours: Monday to Sunday from 10am - 7pm
Web:mundoeli.com
RRSS: Instagram
A new anime store has opened its doors in Panama City, known as El Mundo de Eli (Eli's World). This is an establishment where you can find a wide variety of gifts, geek products, t-shirts... and everything you can imagine!

We are facing a physical store that also serves online to all Latin America and where you can make your purchases of anime, DC Comics, Marvel, clothing, makeup, gifts, merchandising, etc.. In their catalog you can find a wide variety of curious and innovative items that will make your gifts are another level ;)
They sell licensed products such as Funkos, Bandai, Banpresto, etc., as well as official products of famous sagas such as Star Wars, Harry Potter, Pokémon, Naruto... Although the physical store is located in Panama, they ship throughout the country and Latin America so that everyone can access their catalog.
Discover a new anime store in Panama: El Mundo de Eli
El Mundo de El i is a new store in Panama that is especially designed for lovers of anime, geek culture, manga, etc.. A place where you can make your purchases and get exclusive products of your favorite characters.
In this anime store you can buy:
Funkos
Figuarts
Bandai Figures
Anime keychains
Action figures
Zeesea Hypoallergenic Makeup for your costumes or your anime or manga outfits
Anime Clothing
Anime Coats
Anime T-shirts
School backpacks
Anime shoes
And much more!
As you can see, it is a perfect store to make gifts in Panama and surprise your friend with an exclusive, unique and perfect product for fans.
You can buy merchandising of series and movies.
In addition, in this store you will also find a lot of merchandising products of your favorite series and movies such as, for example:
Dragon ball Z
Naruto
Pokemon
Kimetsu no yaiba
Star wars
Harry Potter
Totoro
Batman
Jujutsu kaisen
Sword art online
Boku no hero
Sailor Moon
Shingeki no kyojin
Tokyo Ghoul
Etc.
All this designed so you can expand your collection or surprise that special person with an unforgettable gift. Because all of us, to a greater or lesser extent, are fans of some series, some character or some fictional story. That's why, in Eli's World you can give the best gift you can have in this life: fantasy and fiction!
Make your original gifts in Panama thanks to this new store that has opened its doors and has first class products, manufactured by leading and trusted manufacturers.